Major cosmetics brands have struggled since early 2020 when COVID locked down most of the world, leaving consumers stuck at home. When headed outside, people cover their mouths with masks to reduce the spread of COVID, which reduces overall interest in lipstick. As a result, cosmetics brands have seen a hit in sales, especially in the lipstick category.
In the upcoming months, that is all expected to change. Simporter's AI analyzes search traffic, social media, customer reviews, and sales data — to predict consumer demand for cosmetics brands. Recently, niche cosmetics brands, known as "indie brands," have grown massively, posing a threat to marketshare with the heavy digital shift forced by pandemic-induced quarantines.
Indie brands have nearly doubled in consumer interest since the startup of 2019, with consumers increasingly embracing digital savvy cosmetics brands. As a result, major players are acquiring digital savvy, indie cosmetic brands like PUIG's purchase of Charlotte Tilbury.
One of the major ways they stand apart? eCommerce.
Since the start of 2021, consumer interest in lipstick has grown nearly 30 percent higher as users begin to shop again. With vaccines sweeping the United States, consumers are beginning to spend more in their public appearance once again. For many consumers, there's a psychological push to purchase items, like lipstick, as they prepare to "re-enter" society.
While major brands continue to dominate the field, indie brands are beginning to step up in the pursuit of growing demand for lipstick in 2021. More established brands tend to perform worse on major eCommerce marketplaces for a couple of reasons. Luxury brands, like Dior and Chanel, may fear that their brand exclusivity is zero-sum with increased accessibility on mass-market eCommerce websites like Amazon. In contrast, large, director-to-consumer brands like Estee Lauder's MAC may worry about cannibalizing their own eCommerce marketshare with other platforms, which reduces margins.
Such an approach was already shaky before the modern epidemic. But today, absent a shift, refusing to shift to mass-market eCommerce platforms will significantly damage these brands. While concerns around exclusivity and cannibalization are logical, brands' refusal to makeover their presence on eCommerce platforms and shift major platforms to a priority remains futile.

Brands like Dior and Chanel are on Amazon. Only they're not sold directly by the brands. Third-party sellers list major lipstick brands online to capture consumers who are searching for their products on the marketplace websites. Without re-prioritization, exclusive brands and large direct-to-consumer brands pose three risks to their brand reputation:
1. Fake or Faulty products.
If you go to the 1 or 2 star review sections of virtually any big brand on Amazon that doesn't sell their product directly (i.e. third-party sellers), you'll find a blend of critics blaming the big brand for producing low quality,
over-priced, and, often, broken products. Further, consumers tend to call out the products for being fake or misadvertised. With direct presence on these eCommerce websites, major brands like Chanel and Dior can prevent consumers from perceiving their products as fake and give consumers the option of getting the product directly from their warehouses.
In the example below, one Amazon reviewer claims that they expected more from a Dior product and their expectations were unfulfilled. As a result of a failed consumer journey, the potential Dior client will likely not purchase another Dior product again.

2. Price Cuts.
Products listed by third-party sellers are typically at a discount than on the brand's direct-to-consumer website. Let's take, for example, Christian Dior's Rouge Dior lipstick. On Dior's website, the product sells for $38.00.
However, on eCommerce marketplaces, it's more than 15 percent cheaper, listed at $32.29. For brands that want to retain an exclusive, luxury image — their lack of direct presence on eCommerce marketplaces diminishes exclusivity and allows alternative suppliers to have price wars, seeing whose price can be lower.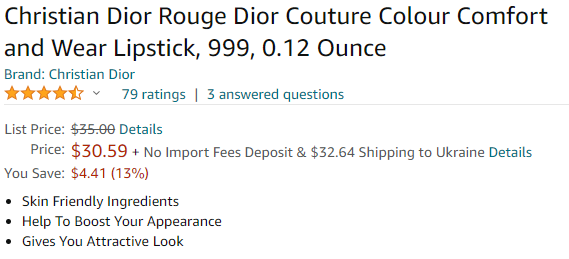 3. Lost Revenue Opportunities.
With both Amazon's 44 percent online marketshare, major brands are losing out by not creating stores or listing their products on Amazon. More so, platforms like Amazon rank on the first page of search results when potential customers search for lipstick brands like Dior and Chanel.
Closing Remarks
Major lipstick brands can learn from indie brands like Nip + Fab and make the most out of an inevitable Amazon presence. With third party sellers flooding marketplaces with luxury and Direct to Consumer brands' products, it's futile for brands to do anything but jump onto eCommerce marketplaces to maintain their brands' reputation and avoid cannibalization.
Popular Articles On The Topic Block